Totes Ma Tote Bag
Posted July 5, 2014
The Totes Ma Tote Pattern
What do you say when one of your favorite handbag and wallet designers asks you to test a pattern for her.....you say, hell yes! I was so excited to have the opportunity to be one of the first to create a tote bag from this pattern, it's called the Totes Ma Tote Bag pattern and it was designed by Janelle MacKay of Emmaline Bags. Janelle is also the designer for the Necessary Clutch Purse Pattern that you have probably seen on my Odd Perfection Facebook Page.
I chose to create a tote bag using the same hardware and interfacings as Janelle used in her bag. The pattern is well written with lots of pictures and even helpful tips. If you are like me you will appreciate the photos of each step. I am a visual learner and it makes things so much easier if you can see each step of the pattern.
It was my first time using Annie's Soft and Stable interfacing. I usually use Thermolam fusible fleece in pretty much everything I make but this stuff is so amazing, it really gave the bag a professional look. I would love to use this in all my bags but unfortunately, it is very expensive. A cheaper alternative would be to use headliner fabric, which is something that I will have to try on my next handbag.
There were also more "firsts" for me, like installing grommets, eyelets and buckles. The instructions to install the grommets were well defined and even came with a template so you could lay it over your bag to mark exactly where they should be placed and to my surprise they were easy to install. The eyelets were just as easy to install, Janelle made this very simple.
This is how my bag turned out.
Front of Tote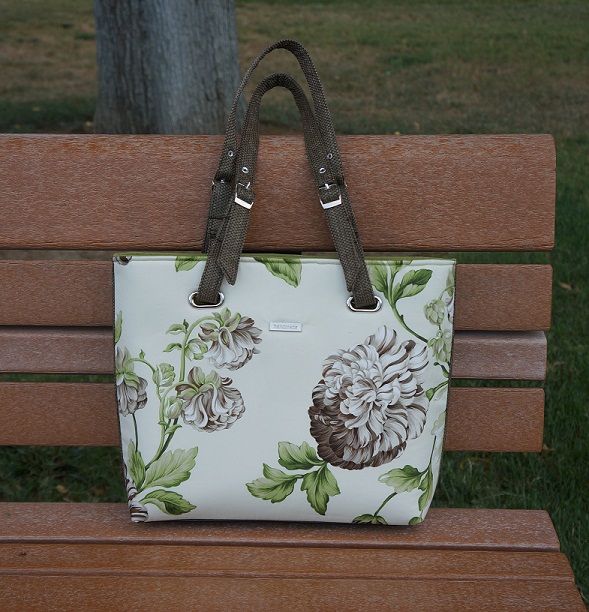 Back of Tote
I used home decor fabric for the exterior and outdoor fabric for the bag facing, zipper gusset and straps. The outdoor fabric made it challenging because ironing the fabric would risk warping or melting the fabric. It just couldn't take the heat, which makes me scratch my head with it being "outdoor fabric" you would think it could take it since it is used in patio cushions and pillows.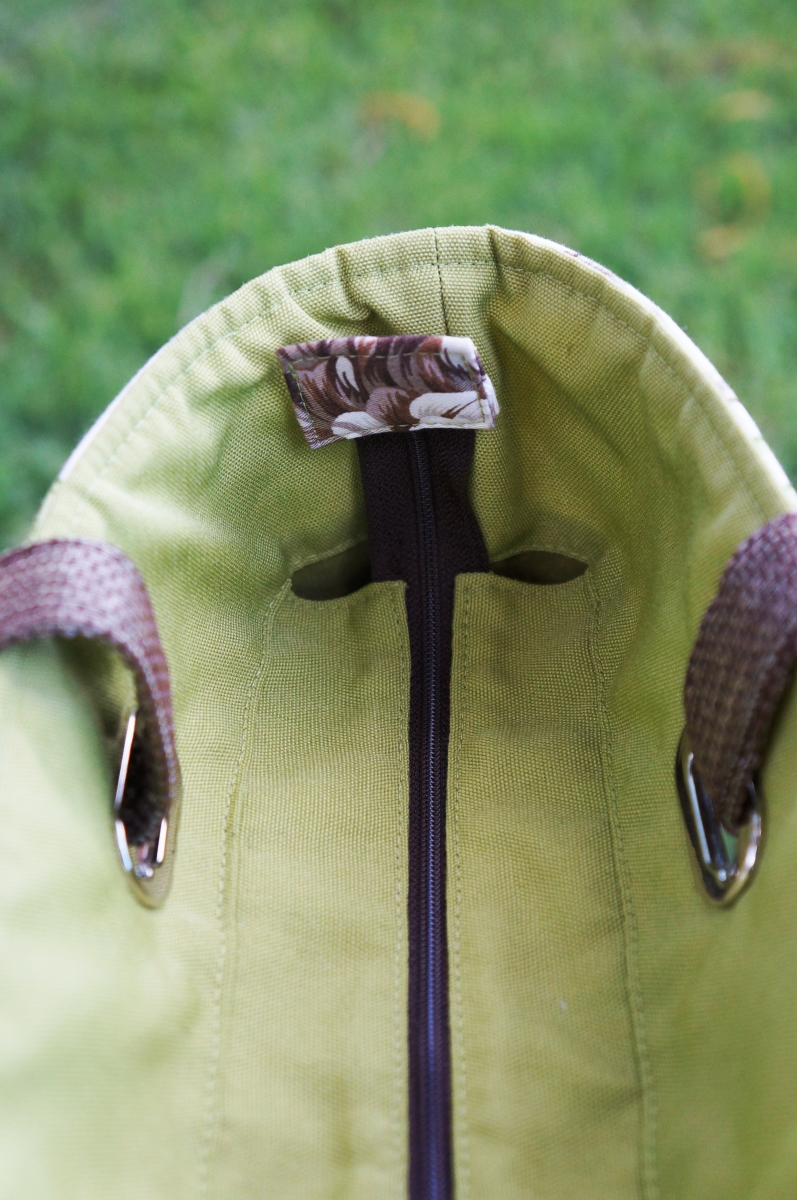 I even love the design of the inside of the bag. There are plenty of pockets to store your items separately from the bag interior. On one side you have a large pocket with a magnetic snap closure (pictured below).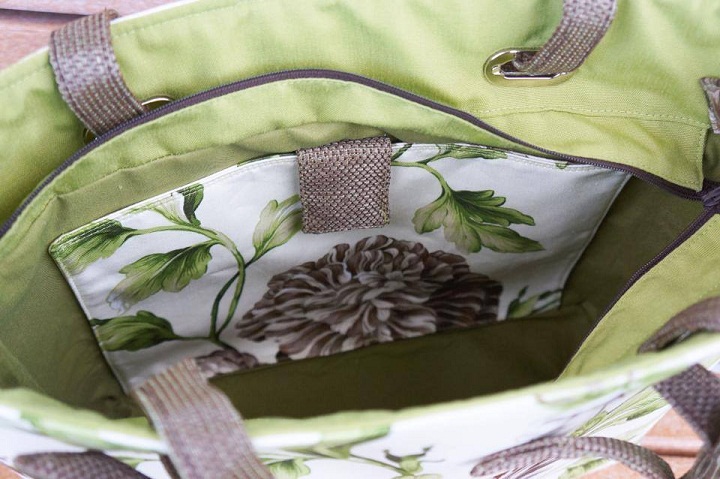 The other side has a zippered pocket and below that has open pockets where you can place your cell phone, wallet, glasses or what ever you want to place in there.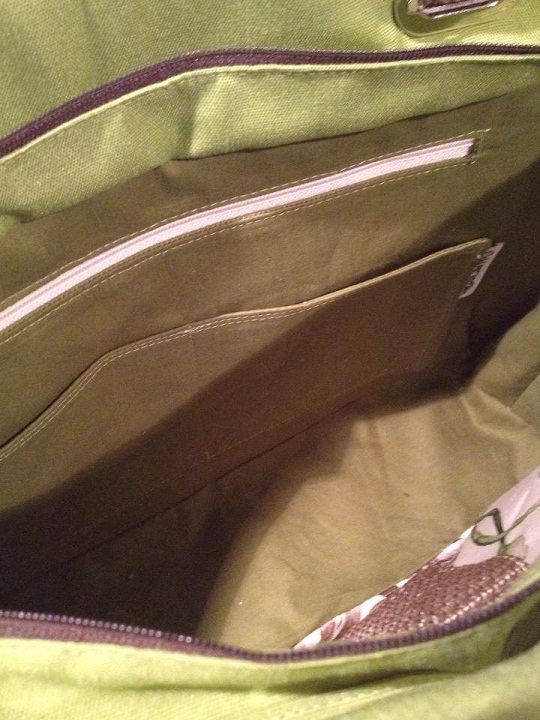 On the bottom of the bag I chose to use faux leather rather than the outdoor fabric used in the exterior. I wanted to give the bag a more durable bottom. Janelle gives you instructions on how to create the strong bottom and marking out and inserting the purse feet was a breeze.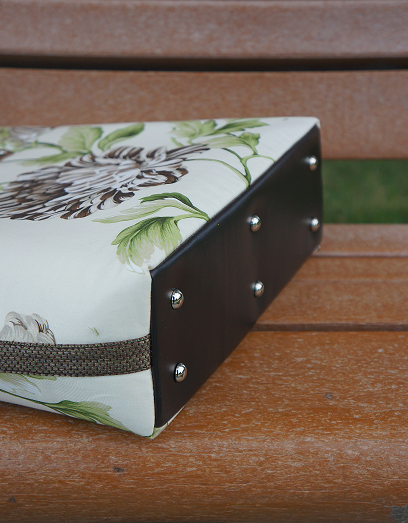 I think the most challenging part of this bag was sewing the decorative strip down the last side of the tote bag. It was so worth the struggle though, it really makes the bag pop.
This is an intermediate pattern and the finished demensions are: Width at Top: 17" (43 cm), Width at bottom: 13" (33 cm), Height: 12" (30 cm), Depth: 4" (10 cm). I always give the bags I make a weight test to see if they can handle the stress of what is carried. I loaded this tote with 6.5 pounds of hardware and tools. The bottom didn't sag and the grommets stayed strong and held the straps strongly in place. This bag is well balanced and wonderfully designed. You did good Janelle! :)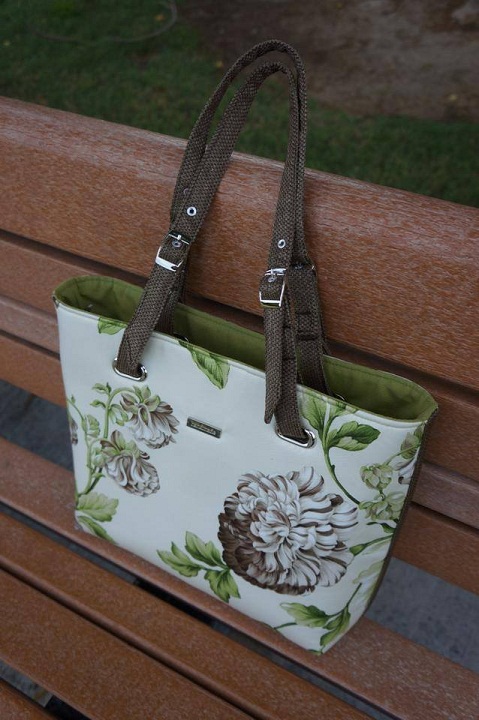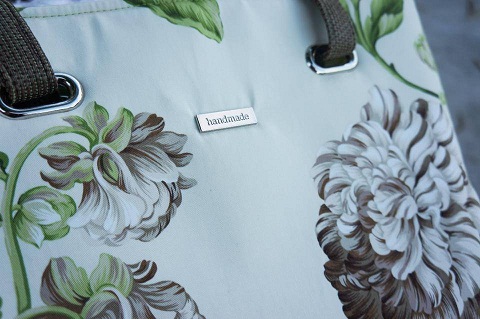 You can check out more bag photos from the other testers HERE. All of them are amazing and I love each and every one. The other testers are sew creative.
Do you want to try making your own, you can find the pattern, hardware and interfacing kit HERE
Thank you all for stopping by!
Lisa